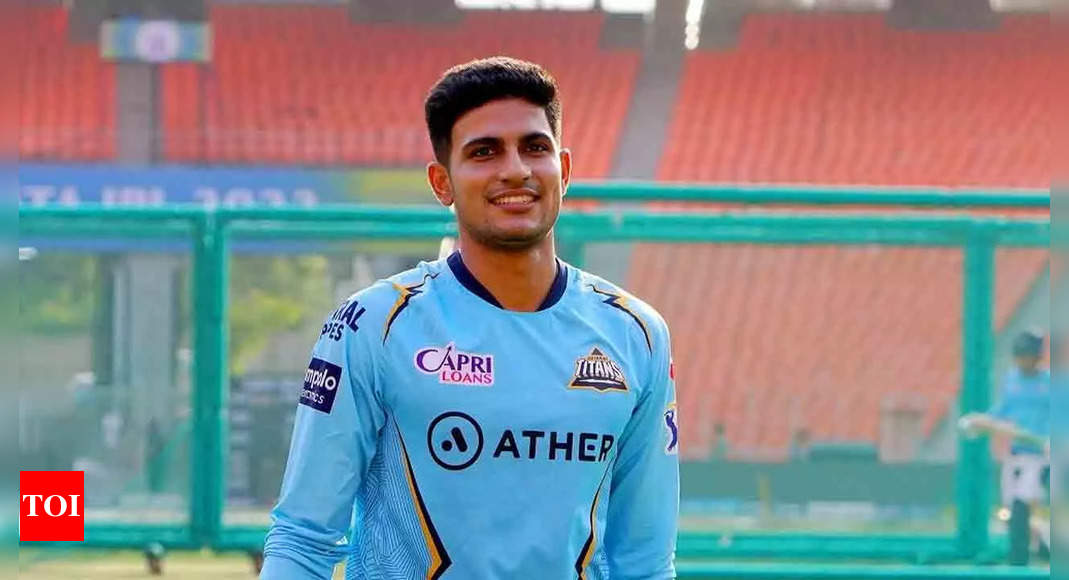 Teammates praise him for approaching game with clear mind
AHMEDABAD: It is the fifth ball of the 14th over of Gujarat Titans' innings. Mumbai Indians allrounder Cameron Green is running in to ball to a marauding Shubman Gill.
The latter, then batting on 110, dances down the pitch exposing his stumps. Green, though, shortens his length, lands the delivery on a fifth stump line and looks to have beaten the 23-year-old's attempted aggressive shot. But, that's not the end of the story. Using his long reach and generating strength from his powerful arms and wrists, Gill, despite getting cramped, is able to manufacture a shot that lands way beyond the long-on fence.
That cricketing shot, the short-arm jab, exemplifies Gill, his approach to batting, his vivid range of shot-making, and above all, his calm demeanour, judgement of the game and the ability to take the match by the scruff of the neck.
The short-arm jab is neither a full-fledged pull nor a conventional flick but a modern day cocktail of both that has been romanticized by today's batters. From Gill to Kyle Mayers to Quinton de Kock to the currently injured Rishabh Pant, all modern-day batters have attempted their own versions of short-arm jabs and found success with varying degrees.
1/15
IPL 2023: Shubman Gill ton helps Gujarat Titans beat Mumbai Indians to reach final
But, none have been as pleasing to the eye as the one manufactured by Gill at the Narendra Modi Stadium on Friday night. His 129 (60b; 7×4, 10×6) was the cornerstone of Titans' 233/3 and backed by an all-round bowling performance, saw them bowl out MI for 171 to clinch a place in the final.
So, what sets Gill apart from other batters? His Ranji team-mate and friend Gurkeerat Singh Mann attributes Gill's current batting exploits to his work ethic.
"It is a combination of various factors. But if I have to point out one aspect, his game awareness stands out. Immediately after hitting Piyush Chawla (in the 9th over) for a straight six, he ran twos of the next two deliveries. His reluctance to settle for anything mediocre makes him different. He watches Virat (Kohli) play, idolizes him and learns from him. His imbibes positives from all cricketers. His batting is like the class's brightest student who excels in all subjects equally," says Mann, in a conversation with TOI.
Mann, who was part of the Titans title-winning squad last season, further adds, "His mind is very clear. He knows his scoring areas, his strengths, and he builds on it. Identifying your strength, knowing it and working on it is difficult."
"If he returns from a tournament, you will find him in the gym at 8 the next morning, which is a testimony to his work ethic. He doesn't compromise on doing the basics even after a great knock," testifies Mann, who has played three ODIs for India.
His innings on Friday, Mann stated, was a continuation of his current form. "He read the situation well. He knew the importance of the match. He continued with the form he was in and paced his innings beautifully. He started off steadily but accelerated after his fifty, which shows his smartness and ability to read a game," the 32-year-old stated.
The knock's importance was also not lost on Mumbai Indians head coach Mark Boucher, who termed it a fantastic innings. "A T20 game is tough at times. We were outplayed today. Gill played a fantastic innings. Unfortunately, we just couldn't execute on the night, which happens in T20 cricket," Boucher said, in his assessment of MI's 62-run loss, at the post-match press conference.
Gill's captain Hardik Pandya too was effusive in his praise for the 23-year-old's batting. "Shubman's clarity and amazing innings is what's keeping him on top. He wasn't rushed or not in control at any point. He's a superstar who will do big things for the franchise and the country," Pandya said at the post-match presentation.
His Titans teammate Vijay Shankar stressed on his work ethic, which makes him lovely to watch. "He has an amazing work ethic. That is why he is one of the best cricketers right now. The way he is batting right now is unbelievable. The way he practices is something really important. He practices with purpose. Every time he turns up for the game, it is lovely to see him switch on from ball one," highlighted Shankar at the post-match press conference.
His biggest strength, the 32-year-old from Tamil Nadu adds, is his ability to find the gaps in the powerplay. "He can hit sixes. But there was an innings where he got 90 with only one six. That's the beauty of his batting. He can do both. He can play the ball in the gaps and hit the boundaries whenever needed. He can hit the big one also. He is someone with everything. He knows when to use what and that's the highlight of being a player, and he shows us how it is to be done."
Come Sunday, the Titans fans will be hoping for an encore from Gill against MS Dhoni-led Chennai Super Kings.